ABOUT THE COMPANY
We envision a prosperous, inclusive and educated India powered by technology driven solutions.
Who we are
EdZilla is a Bangalore based social enterprise that was started in Nov 2011 by three IITians to develop software solutions to enable quality education in rural India. The company develops low-cost technology solutions specially tailored for rural India where poor or no Internet connectivity is the norm.
The key features of the solution are
Enriched, interactive, curricular content in the local language rendered on smart phones or low-cost tablets to facilitate self-learning
Adaptability to each child's learning pace and knowledge level
Continuous and Comprehensive Evaluation(CCE) of the performance of each child
Enriched content as Teaching Learning Material(TLM) for teachers
Our motivation
Less than 50% of our children in rural schools can read and still less can do basic arithmetic
Severe dearth of trained teachers
Not enough teacher training institutes to catch up on the deficit any time soon
If this trend continues, India which has the largest youth population in the world may also end up having the largest percentage of its youth unfit for most new-age jobs
Turning this adversity into an opportunity to introduce technology assisted learning in rural schools is the need of the hour.
Our mission
Raise the quality of education in Government schools closer to that in private schools
Bring fast paced learning to rural India and make it a fun experience for children
Enable children to learn at home too, with parents
Bridge the e-divide between rural and urban children
Make a profound social impact through technology based solutions for quality education
THE TEAM
The ones who run the company
Dr Rajugopal Gubbi
CEO & Founder
M Tech from IIT Madras
PhD in Wireless technology from Carlton University, Canada (Common wealth scholarship program)
Decades of experience designing and developing wireless communication products
29 US patents in the field of wireless, multimedia and system design
Authored / Co-authored proposals for IEEE 802.11 and IEEE 802.15.3
Mentored students at PES Institute of Technology (PESIT), Bangalore
Loves Astronomy, the night skies and the telescope
Prabha Mysore
VP of Engineering & Founder
M Tech from IIT Madras
Decades of experience in the software industry
Managed both customized software and product development
Passionate about education, especially, rural education
Volunteered in government schools for many years to teach students and to train teachers to use technology
Fond of reading, writing and music
Mardava Gubbi
Director & Founder
B Tech and M Tech dual degree from IIT Madras
Contributed as Flight software engineer at TeamIndus - Axiom research laboratory, Bangalore for 3 years during their quest for the Google Lunar XPRIZE
Currently pursuing PhD in Medical Robotics at Johns Hopkins Whiting School of Engineering, USA
Loves teaching
Lives and breathes books
OUR PRODUCTS
The end-to-end solution
EdZilla's end-to-end solution is aimed at improving the quality of education in rural schools. The solution does not require Internet connection for its operation. Any school that has the basic infrastructure for charging devices (tablets or smart phones), can benefit from this solution.
This solution can also be used by anyone to create content for any domain and deploy it on tablets and smart phones for self-learning.
EzTextBook App

Demo of EzTextBook
Stand alone Android app with no Internet connection required for operation
Multi-grade, multi-user environment for optimal use of hardware
Enriched curricular content
Self-learning tool for children
CCE tool and TLM for teachers
Interactive, fun learning environment
Adapts to the child's learning pace
Download from Google play store
EzMentor App

Field mentor assistant
Content update to other devices using Wi-Fi
Collection of field data for periodic analysis by the back-end servlet
Automatic report generation where feasible
Easy-to-use report templates for manual entry
Continuous, on the job, training using EzTextBook
GPS based attendance tracking for accountability
EzMirror Application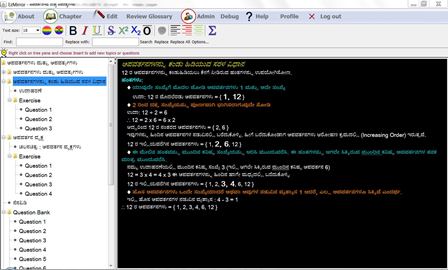 General purpose online content authoring tool
Backend support by servlet
Adding text, images, media to the topic
Adding exercises under topic
Adding question to exercise and question bank
Reviewing, packaging, deploying
Scholastic games
Age no bar. Anyone who wants to improve their English or Kannada vocabulary or sharpen their Arithmetic skills can use these games.
EzMath Basic Math games

Demo of EzMath Basic Math games
All four basic Math operations in one suite
Learning and Challenge modes
User selected op and user supplied operands in learning mode
Animation of complete solution available in learning mode
Random selection of op and operands in challenge mode
User level decides complexity of problems
Ample help at every step
Score awarded for each correct step
Correction shown as animation
Download from Google play store
EzEnglish word games

Demo of EzEnglish word games
Five different word games in a single suite
Random selection of games
User level decides complexity of words
Score awarded for each correct letter
Words from user's own textbook
Emphasis on listening to the pronunciation
Ample help at each step
Download from Google play store
EzKannada word game

Demo of EzKannada word game
Synonym or meaning given
Score awarded for each correct phoneme
Ample help at each step
User level decides complexity of words
Fun way to improve vocabulary
Download from Google play store
The EducateZilla Program
As the saying goes 'The proof of the pudding is in the eating'. We are extremely proud of how our NGO arm, Suvidya Foundation, has provided such proof by deploying the solution in rural government schools across Karnataka as part of its EducateZilla program. Suvidya Foundation used the EzMirror suite to develop enriched content for the Karnataka state Kannada medium syllabus. Suvidya Foundation also created training material for its field mentors using EzMirror. Now Suvidya Foundation has used EzMirror to create preparation material for the National Means cum Merit Scholarship(NMMS) examination.
Click here for more details on the program.